Editor's Note: The following is the second of two articles highlighting some of the top news stories from 2022. This article highlights events from July through December.
There was plenty to write about during the second half of the year including stories about nature, such as a wayward pelican and a road washed out by an eager beaver. Community members maintained their proactive ways when two older loggers took out their chainsaws to make playing on the river safer, and a special education teacher helped police arrest a man.
As tends to be the case in the St. John Valley, most of the news was good news in 2022.
July
A baby eagle rescued from debris at a Pelletier Island camp after a microburst damaged its nest succumbed to its injuries. The eagle had been transported to Avian Haven, a hospital for wild birds and turtles in Freedom for treatment but had untreatable injuries.
Rather than waiting for state officials to remove two entwined dead trees that had pinned several tubers under the water of the Fish River in Fort Kent, relatives of one of the women who nearly drowned during the incident took action to remove the trees themselves. The Fish River is highly traveled by water enthusiasts on non-motorized watercraft such as innertubes, kayaks, paddleboards and canoes.
An American white pelican was spotted far from its usual flight path on a rock in the middle of the St. John River near the Grand Isle boat landing. American white pelicans are rarely found in Maine and tend to spend their time west of the Mississippi River or wintering in Central America or Florida.
An Aroostook County road that heavy rainfall and a beaver dam washed out is reopened after being closed for a little more than a month. The washout affected 22 miles of Route 1 from Van Buren to Caribou in northern Aroostook County.
The 44th annual Madawaska Acadian Festival returned to the town, where all were welcomed to celebrate authentic Acadian foods, music, crafts and artistry. Thousands have attended the annual four-day event each year since it began in 1978.
Madawaska School Department has hired Christian Arnold as the new principal of Madawaska Elementary School. The interview committee was unanimous in their recommendation of Arnold, 39, to fill the position.
August
Residents formed a neighborhood watch group after crimes began increasing in the towns of Wallagrass and Eagle Lake. Neither of the towns have a local police department.
Easton School District banned an employee from soccer games for a year after he yelled racial slurs at Fort Kent boys varsity soccer head coach Kalusha Kotes during a tournament in Caribou.
Gov. Janet Mills toured construction of The new Madawaska-Edmundston International Bridge. The new bridge is essential to ensure the safety of all who travel between the two borders as well as vital to supporting the economy of northern Maine, Mills said.
Joe LaChance, 77, who founded Four Corners Park in Madawaska, received the 2022 Southern California Motorcycle Association Legacy Award. Four Corners Park is named for its location in the most northeastern town in the United States.
Five firefighting teams from northern and central Aroostook went head to head, with Van Buren Fire Department scoring the biggest points out of them all. For the first time since 1991, Caribou Fire & Ambulance was host to the Aroostook County Firefighters Muster.
September
When retired Fort Kent Community High School English teacher Nancy Paradis set a personal goal last Christmas Day to carve 365 wooden Santa Claus figurines in one year, she meant business.
Red Devil Roast Coffee Co. owner Alan Susee purchased a Ford Police Interceptor SUV that was once in the state's fleet of sheriff's vehicles. With some creative signage, Susee has made the vehicle resemble a sheriff's cruiser and uses it in his coffee business.
Zombies invaded the small northern Maine town of Madawaska on an episode of the television show "Tales of the Walking Dead." Some people involved in the Madawaska version of "Tales of the Walking Dead" even uttered French phrases during the episode.
The communities of Wallagrass, New Canada and Cross Lake combined forces to ensure that all those who served in the United States military will not be forgotten. A monument honoring veterans of the three towns was placed at a new Veterans Memorial Park in Wallagrass.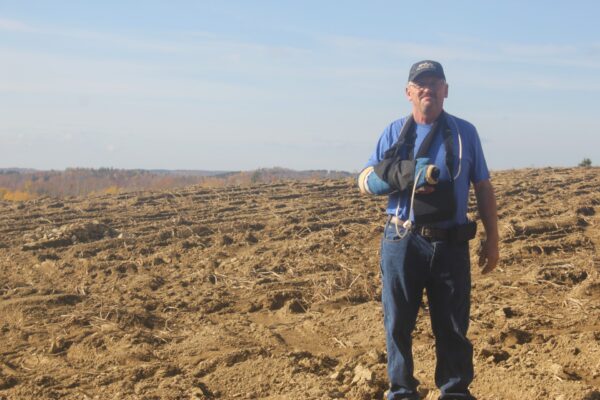 October
In what might seem like a scene out of a movie in most other parts of the country, a moose decided to take a stroll through downtown Fort Kent. A local grocer captured the event on film.
Fifth-generation Fort Kent potato farmer John Roy's arm was crushed in a harvester and it could have brought an end to the family farm. Instead, Roy's fellow potato farmers and other businesses got together to harvest Roy's crop and transport it to the processor.
A 74-year-old Fort Kent man who confessed to shooting and killing his neighbors' dog was charged with animal cruelty. Moose, a 3-year-old blue nose pitbull, shared their heartbreak on social media in a quest for justice. The case is pending in court.
American Legion National Commander Vincent "Jim" Troiola made history when he visited Smart-Soucie Post 176 in the small northern Maine town of Eagle Lake. This was the first-ever visit by a Legion national commander to Post 176, which was chartered in 1947 and has 95 members nationwide.
November
Police arrested a St. Agatha man in connection with a shooting that occurred in Allagash. Police charged Shane Michaud with attempted murder and elevated aggravated assault.
A dozen "terminale" students, the equivalent of seniors in the United States, from Cholet, France, spent nearly two weeks this month living with host families in the St. John Valley while attending French language classes at the Fort Kent high school. The French exchange program had been halted since 2020 due to the pandemic.
Doug Clapp's crew of talented thespians at Fort Kent Community High School drew sell-out crowds with their production of the musical "Grease." The show also included special guest stars much to the delight of audiences.
December
Fort Kent teacher Derrick Cooper became concerned when he thought he saw a man walking downtown on Thanksgiving carrying an ax. Cooper turned his car around for another look and wound up assisting Fort Kent police in conducting an arrest. Cooper later was given a special award by the town.
Fort Kent Elementary School third-graders reached out to community members who found themselves alone at Christmas by sending them handwritten letters and decorated Christmas tree ornaments.